In June 2007, Singapore photographers were travelling regularly to Johor, Malaysia to photograph a pair of rare resident kingfishers nesting in the Panti forest. These birds are identified as Rufous-backed Kingfisher (Ceyx rufidorsa) (below). However, comparing the images with that in Robson (2005), the birds from Panti show more black on the wings but not as much as in the Black-backed Kingfisher (Ceyx erithacus). This is also the case in Morten's (2000) photographic guide.
When shown a couple of the recent images from Johor, Morten commented: "…very dark wings, is that really a Johor bird? darkest resident bird I have ever seen… my pictures from that area have very orange wings…"
The above two guide books treat Rufous-backed and Black-backed as two distinct species. However, Lekagul & Round (1991) in their Birds of Thailand, consider them as a single species.
Now are the birds seen in Panti, Rufour-backed or Black-backed Kingfisher? In other words, are there two distinct species or are the two, variations of a single species? Ornithologists are beginning to agree that there is only one species, with a range of intermediate forms as a result of hybridisation of two subspecies, the black-back and the red-back forms.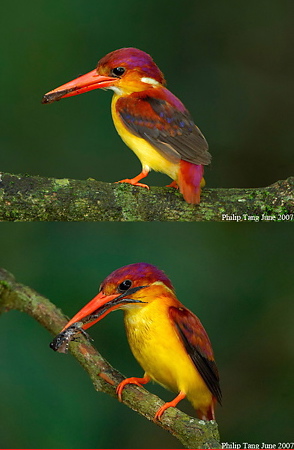 Ripley & Beehler (1987) consider that there are two distinct species; while Sims (1959) as only one species.
The more recent publications have all accepted that there are only one species, Oriental Dwarf Kingfisher (Cyex erithacus), with subspecies – erithacus (black-back) and rufidorsa (red-back) (Wells, 1999; Wang & Hails, 2007).
In the treatment of kingfishers for the series Birds of the World, Woodall (2001) similarly treats these two groups as a single species. His justification is that there is widespread hybridisation in the populations in Borneo, Sumatra and south of Peninsular Malaysia, resulting in a wide range of intermediate forms. He believes that the original decision to distinguish two species originated from the population in north of Kuala Lumpur where there is little hybridiation, as the black-backed is migratory.
The evidence is clear that the black-backed and red-backed are just different forms of the same species, Ceyx erithacus or the Oriental Dwarf Kingfisher. In Borneo some 80% of specimens show intermediate characteristics to some degree or another (Sims, 1959). And the Panti birds similarly show intermediate characters.
Birders should call these birds Oriental Dwarf Kingfisher.
YC Wee
Singapore
June 2007
(Images Philip Tang)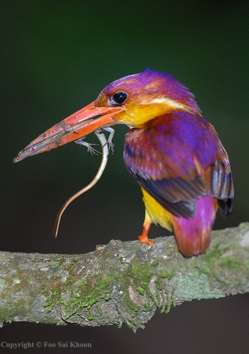 Foo Sai Khoon has since sent in the image on the right and commented: "There were at least two pairs of Oriental Dwarf Kingfishers nesting in Panti this year. The feathers of kingfisher are rather special in that they can look slightly different under varying light conditions, due to the way they reflect light. I have enclosed an image of the Oriental Dwarf Kingfisher taken at Panti recently for your discussion.
"From my experience, flash tends to bring out the colour of kingfishers making them look more vibrant and perhaps less dark?
"Cheers, Sai Khoon."
23rd June 2007
References:
Lekagul, B. & Round, P.D. (1991). A guide to the Birds of Thailand. Thailand: Saha Karn Bhaet Co. Ltd.
Morten, S. (2000). A photographic guide to the birds of Malaysia and Singapore. Hongkong: Periplus Ed.
Ripley, S.D. & Beehler, B.M. (1987). Species status of the Malaysian three-toed kingfishers (Ceyx) – a reassessment. Bull. Br. Ornithol. Club. 107:145-51.
Robson, C. (2005). Birds of South-east Asia. London: New Holland.
Sims, R.W. (1959). The Ceyx erithacus and C. rufidorsus problem. J. Linn. Soc. (Zoology) xliv, 296:212-21.
Wang. L.K. & Hails, C. J. (2007) An annotated checklist of birds of Singapore. Raffles Bull. Zool. Suppl. 15:1-179.
Wells, D.R. (1999). The birds of the Thai-Malay Peninsular. Vol. I, Non-passerines. Academic Press, London.
Woodall, P.F. (2001). Family Alcedinidae (Kingfishers). Pp. 130-249 in: del Hoyo, J., Elliott, A. & Sargatal, J. eds. (2001). Handbook of the birds of the world. Vol. 6. Mousebirds to Hornbills. Barcelona: Lynx Editions.