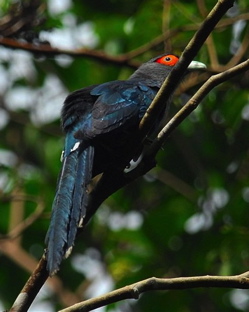 On 4th June 2007 Johnny Wee sent in images of a Chestnut-bellied Malkoha (Phaenicophaeus sumatranus) sunning itself after the morning downpour along the Nee Soon pipeline. This is what birds normally do after being drenched by the rain. Or after a bath. Once dry, the feathers are carefully preened to keep them in perfect condition. Each feather will be passed through the beak to clean it and set the separate filaments back in place. After all, a well maintained set of feathers can mean life and death to the birds. They need to be agile in flight to catch prey and to escape predators.
In an earlier post on a Chestnut-bellied Malkoha sprawled out in the middle of a forest path in MacRitchie, the bird had its wings stretched and tail feathers fanned out. We were wondering then whether it was actually sunning itself or anting as there was no rain earler.
This recent encounter saw the bird sunning itself on the branch of a tree (above). According to Payne (1997), many cuckoos, including malkohas, need to warm and dry their bodies in the sun once their plumage become wet after the rain. They sit in a high open perch with the wings and tail spread and the back feathers raised to expose the skin to the sun. Once dried, they move on to feed. This behaviour is also seen in coucals.
Johnny Wee
Singapore
June 2007
Reference:
Payne, R.B. (1997). Family Cuculidae (cucoos). Pp.508-607 in: del Hoyo, J., Elliott, A. & Sargatal, J. eds. Handbook of the birds of the world. Vol. 4. Sandgrouse to Cuckoos. Barcelona: Lynx Editions.