Most birds feed their chicks with animal food during the few days after hatching, even those birds that feed mainly on fruits and grains. The Oriental White-eye (Zosterops palpebrosus) is no exception. This bird feeds on insects, fruits and nectar from flowers. The young have been observed to be fed mainly on caterpillars. The images above show the chick at various ages being fed with succulent caterpillars. Other invertebrates like spiders and ants are also popular (below). However, no plant food was seen delivered to the chicks. This is understandable, as growing chicks need proteins more than sugars and carbohydrates.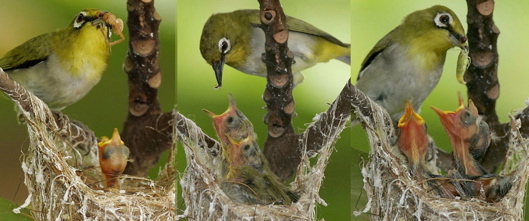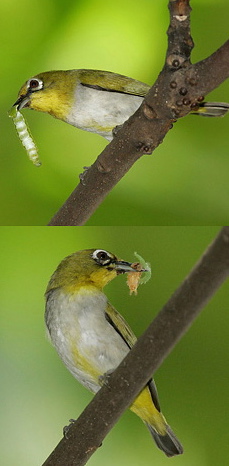 The parent birds are kept busy all day long, flying off to forage and returning to feed the chicks. But when they return, they do not fly directly to the nest. They perch nearby and survey the surroundings (left). Only when all is clear do they fly to the nest. Once the bird lands by the nest, the vibrations will cause the chicks to open their mouths fully, even just after hatching when they are blind. And without fail, every chick in the nest will strain its neck upwards with mouth wide open, ready to be fed.
Unlike raptors and such where the parent tears off pieces and feed the chicks one by one, here, every trip brings only food for one chick. Therefore the oldest and naturally the most aggressive of the chicks usually ends up with the most food. In the recent nesting of the white-eye at Kent Ridge, the original three chicks ended up two. The missing chick, obviously the youngest and weakest, was probably dumped out of the nest by its two siblings or else fell off. This was the case in an earlier documentation where the third chick was found on the ground below the nest.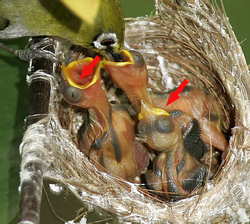 What becomes apparent once the chick gapes is the reddish colouration of the inner area of the mouth, lined with prominent swollen yellow oral flanges, believed to be "food targets" for the parents (right, arrows).
Immediately after feeding a chick, the adult moves to the rear of the fed chick to await the faecal sac. With its beak, it carefully picks the sac as it appears from the cloaca to disposes it some distance away.
YC Wee & Melinda Chan
Singapore
May 2007
(Images by Chan Yoke Meng)