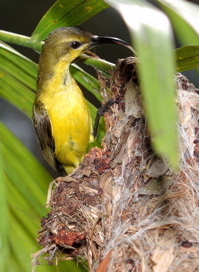 Olive-backed Sunbird (Cinnyris jugularis, formerly Nectarinia jugularis) is a common garden bird that nests near human habitation (left). I have seen it building its nest in parks by paths that are regularly walked by visitors. I have also seen a nest attached to the frond of a tall palm within the confines of Tan Tock Seng Hospital.
The nest is built entirely by the female bird, or so I am told. The male simply perches nearby and seems to either give instructions or urges her on. It is securely attached to the mid-portion of a frond or even a clothes line and looks like an oval purse-shaped pouch with a hooded side-entrance. Hanging down is a long beard or tail of vegetable matters.
The nest varies from 300 mm long to twice as long. It is usually 0.5 to 1.5 metres above ground, or even higher. The abandoned nest that is in my possession measures 250 cm long, including its tail. The actual nest is 110 cm. The widest breadth is 60 cm.
There is a roundish opening 30 cm diameter that faces towards the palm stem. Above the opening is a porch, built at a slight angle and not right above the opening. This no doubt helps shield the opening from prying eyes along the path. The image below (left) shows clearly the porch over the opening with the incubating/brooding bird looking out. That on the right shows the nest cut longitudinally with an unhatched egg left inside. Note the make-up of the nest interior. The upper portion consists mainly of plant materials – dried leaves, stem pieces, etc. The lower portion is a thick layer of plant floss, making up a rather comfortable nest lining.
The outer layer of the nest is constructed of dried pieces of mainly water weed leaves, as evidenced by the presence of air cavities in the leaf tissues, clearly seen in the dried pieces. Silk, probably spider's webs, are liberally used to attach the leaf pieces together. The arrows in the top image on the right show portions of unidentified fruiting/flowering pieces incorporated in the nesting materials.
The interior of the nest is a 3 cm thick layer of floss that makes up the egg chamber (left bottom). There are three distinct layers, indicating floss coming from different sources. I have only managed to identify floss from the seeds of the lalang grass (Imperate cylindrical) (berlow left). An earlier nest showed the absence of lalang floss.
It would appear that the birds collect whatever floss is available at the time of nest construction. There are a number of alternatives, like bulrush or cattail (Typha angustifolia) and kapok (Ceiba pentandra).
YC Wee
Singapore
April 2007
(Top image by KC Tsang, all others by YC Wee)