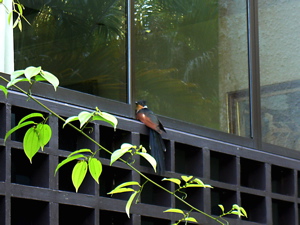 Chestnut-winged Cuckoo (Clamator coromandus) breeds in the Indian subcontinent, Sri Lanka, S China, Indochina to SW Thailand. It winters south in parts of Asia and Southeast Asia. So we get to see the bird as an uncommon winter visitor and passage migrant from as early as 30th September to as late as 28th April.
On 11th April 2007, Richard Hale had a visitor trying to enter the living room of his apartment at Dairy Farm Road (above). The cuckoo must have seen its reflection on the window pane and tried to engage it, pecking the glass as is common with other birds (1, 2).
As Richard relates his encounter: "Thought you might like to know that this morning about 9 am, my maid told me there was a strange bird on the living room window sill looking into the room. I went outside to see it and it took no notice. A nice Chestnut-winged Cuckoo which waited for me to go and get the video camera, then my still camera and lastly the tripod.
"It was only after twenty minutes that it decided to fly away strongly. During the whole time it appeared to be taking an interest in what was going on, turning its head etc. and did not appear stunned. How it arrived on the window sill I know not but it was a nice surprise. I haven't seen one for many years."
Richard Hale
Singapore
April 2007