Cuckoos in folklore are known as weatherbirds. And in most continents they are known as "rainbirds" or 'stormbirds" because they call incessantly early in the rainy season. Koels, being cuckoos, are similarly known as rain- or stormbirds.
The call of the koel and the coming rain may be coincidental. In Queensland, with the coming of summer, so does the rain. This is also the time when the Asian Koel (Eudynamys scolopacea) starts calling day and night. But the bird calls only because it is the breeding season, not because of the coming rain.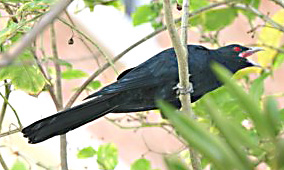 In my area koel is commonly heard mostly between mid-October to February, after which it can be heard only occasionally.
Three times within the last two weeks I heard the call of the koel just before and during rain. The first time was during a light drizzle in the late afternoon; then during a heavier drizzle in the evening. In this latter case the bird was taking shelter in a nearby tree. The third time it called just as lightning was flashing and thunder was rolling. The rain was just beginning to fall. But once it started to rain, the bird was quiet.
Then this afternoon, when it was raining not too heavily, a male Asian Koel suddenly flew into my terap tree (Artocarpus odoratissimus). The leaves are large and they provide ample shelter against the rain. The koel belted out a few calls that attracted my attention. The moment I took a look, it stopped calling. It must have seen me first. Then I caught a glimpse of it moving to another branch. After this I could not locate it but it was definitely there.
As the bird was calling koel-koel-kole, the rain fell heavier. Then came the thunder and the lightning. And then the call stopped.
Now, is all these also coincidental? Is there any connection between the call of the koel and rain? The problem is that the bird also calls when there is no rain. But then, when it rains, you do not hear the calls of other birds.
Or do you?
YC Wee
Singapore
April 2007