On 24th March 2007 Alex Koh had an exciting encounter around the block where he lived in Serangoon. He was walking when he saw something fell with a loud thud on the tarmac floor near him. It was a bird. On closer look he thought it was an eagle. But it was a Black Baza (Aviceda leuphotes).
The bird was lying helpless on the ground. Alex picked the bird up and noticed blood flowing from its nostrils. There were about half a dozen crows flying above, so he suspected that the crows must have attacked it.
He brought the injured bird home and cleaned blood aroound its face by gently spraying the head area with water. The bird would not allow anyone to touch it, pecking whoever tied to do so. It kept a close watch of Alex's hands but when a stick was brought towards its beak it did not react at all.
The bird was put in a cage and fed with crickets (left). But it refused to eat or drink. Covering the cage with a piece of cloth and putting a packet of crickets next to it somehow calmed it and it slept through the night.
Two days later the baza appeared to have recovered but still weak. It opened its beak slightly when approached. On the afternoon of the third day it was brought to Simpang in its cage. There, the door was opened and after a short while the bird got out and flew to the nearby patch of vegetation (right).
It was still weak but could manage a short low flight. It landed on the ground but soon managed to get on a shrub and looked back at its rescuers. It then looked up and surveyed its surroundings.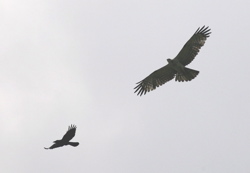 There above, was a crow chasing a buzzard (below). Apprehensive of the danger from the crow, it needed some persuasion from those who were there to witness its release before it flew into a patch of secondary growth.
The Black Baza is a winter visitor. Hopefully it survives its ordeal to join the others in their migration north.
Input and images by Alex Koh.