In February 2007 when Meng and Melinda Chan were at Changi looking for the Oriental Pied Hornbill (Anthracoceros albirostris) (1, 2, 3), they chanced upon a small group of Red-breasted Parakeets (Psittacula alexandri) perching on a branch of a large angsana (Pterocarpus indicus) tree.
There were four birds in all, three males of the nominate P. a. alexandri and a single female of questionable subspecies. Two of the males were on one side of the female while the other male was on the other side.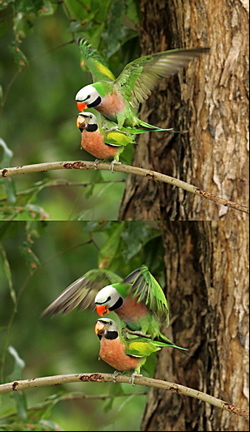 The female parakeet moved sideways towards the nearest of the two males and made body contact. At this the male immediately mounted and copulated with her (top). The two other males in the meantime moved closer to the copulating pair. The moment the copulation ended and the male dismounted, one of the other males flew as if to take his turn with the female. Somehow he did not succeed and he landed on a branch above. The female in the meantime slided over to the earlier male who was then perching by her side and he again mounted her. This time he made about 10 cloacal contacts, each time his tail crossing hers on alternate sides (left).
The male on the branch above had in the meantime rejoined the others.
Once the pair finished copulating and the male dismounted, she slided slowly towards another male but for some reason or other he moved further away. There was another series of mating with the same male before a male Oriental Pied Hornbill suddenly appeared and frightened off the parakeets (below).
Chan Yoke Meng & Melinda Chan
Singapore
March 2007