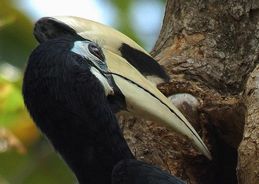 On 9th February 2007, Heng Fook Hai posted a close-up image of the Oriental Pied Hornbill (Anthracoceros albirostris) and he noticed something he did not see before. So he posed the following questions:
"I seldom see birds with long eyelashs until my recent photo of the hornbill (left). I searched my other bird photos but did not find any other birds showing eyelashes. Is there other bird with such long eyelashs?
"I remember BESGroup did show a kingfisher with eye membrane to protect their eyes. Just curious what function do the eyelashes serve?"
This got me curious, so I looked up the relevant literature. It seems that these are actually bristles, highly specialised contour feathers in which the rachis or feather shaft lacks barbs. Such bristles are found at the base of the bill. Ornithologists term these rictal bristles. And rictal bristles are seen in many species of birds that catch insects, like nightjars (below), flycatchers, owls, swallows and hawks.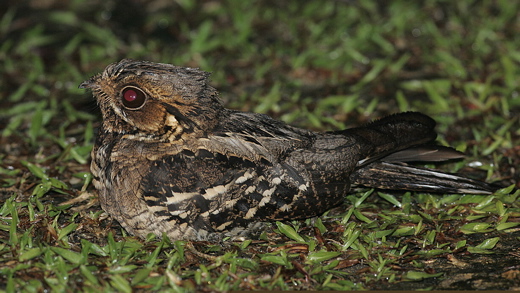 So what are the functions of rictal bristles? Some suggest that they help to funnel insects into the mouth, but this has no experimental basis. And what about the bristles around the eyes? There appears to be consensus that they protect the eyes from flying insects and other debris. Especially when the bird catches large scaly insects like butterflies and moths. Rictal bristles also help the bird to detect movements of insects held in the bill, just like the whiskers of some mammals.
Images: Fook Hai (hornbill) and Chan Yoke Meng Large-tailed Nightjar Caprimulgus acrurus).