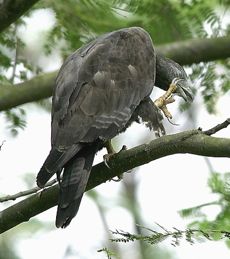 Yes, why does a bird scratch its head? Can we assume the head is itching? I suppose so. The presence of ectoparasites may be be the cause of the itch!
The real reason for scratching can be to arrange those feathers on the head and neck that cannot be reached by the bills.
Birds preen their feathers, spreading a fatty secretions obtained from the uropygial or preen gland located somewhere on the rump. This oil is spread over the feathers, possible to waterproof them, although there are no proofs that this is so. Ornithologists now believe that the oil is a sort of conditioner that maintains the skin supple, which in turn prevents the feathers and scales from turning brittle. The oil may also help control growth of undesirable fungi and at the same time encourage the desirable. These latter fungi are claimed to inhibit the presence of lice on the feathers.
Anyway, spread of this oil is usually done with the help of the bill. But it is not possible for the bill to reach the feathers on the head. So the oil is rubbed on the bird's foot with the help of the bill and the bird in turn scratches its head, transferring the oil to the head feathers.
The Grey-faced(?) Buzzard (Butastur indicus) in the picture at the top is obviously enjoying its scratch. Note that the eye is covered by the nictitating membrane as scratching is going on. This is probably to protect the eye.
Text by YC Wee, image by Chan Yoke Meng.
Note: The bird is probably a honey buzzard (Pernis sp.), see comment.