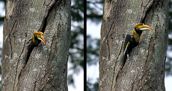 This account has now been published as:
Y. M. Chan, M. Chan and Y. C. Wee (2008).
Aberrant behaviour of a female Great Hornbill and a female Rhinoceros Hornbill.
Nature in Singapore. 1:31–34.
A PDF copy is available HERE.
————————————————————————————————————————
Between February and May 2006, a pair of mixed Great (Buceros bicronis) and Rhinoceros Hornbills (Buceros rhinoceros), both female, was seen regularly at a patch of secondary growth at Eng Neo (1, 2). They were prospecting a tree cavity along the trunk of an old albezia tree (Paraserianthes falcataria).
The Great would regularly feed the Rhinoceros and lure the latter to the cavity. It would also check the cavity as if placing regurgitated food into it. This had the effect of getting the Rhinoceros flying over to also check the cavity.
It would appear that the Great was playing the role of a male while the Rhinoceros that of a female.
Although there was talk of one of the birds entering the cavity, most birders and photographers who were monitoring the hornbills have yet to see any image of this.
Recently the hornbills have been visiting the tree again. And as before, they regularly checked on the cavity.
Meng and Melinda Chan were around the area one day when they heard the honking of hornbills. Rushing to the tree, they noticed something inside the cavity. Soon a yellowish structure poked out – it was the casque of the Great Hornbill. The head followed and then the right side of the body.
Once the right wing emerged totally from the cavity, it unfolded completely with the head of the bird held high (above). Then the bird turned downwards while the left wing was still not completely out. Once both wings were free of the cavity, the bird dived down with the wings folded back before unfolding the wings fully and flying in a downward direction.
The Great Hornbill was in the cavity for a short while and emerged when she heard the Rhinoceros calling. When the pair was together, there was courtship feeding.
The good news is that the pair is still prospecting for a nesting cavity. It has gone one step further in that one of the birds actually entered the cavity. It is possible that one or the other had previously entered the cavity but not observed and documented.
The birds are regularly seen at the nearby Bukit Timah Nature Reserve. In January 2007 when a large fig tree was fruiting, both hornbills were regularly seen feeding there. Again, they regularly indulged in courtship feeding.
Now where do the birds end up at night? It was earlier reported that the Great spent most nights in a rain tree (Samanea saman) around a condominium along Adam Road. The Rhinoceros was never seen there. Obviously the two spent the night separately, meeting only during the day. What happened next is anybody's guess…